News – May 31st, 2018 – Finished Router Table and a Pleasant Surprise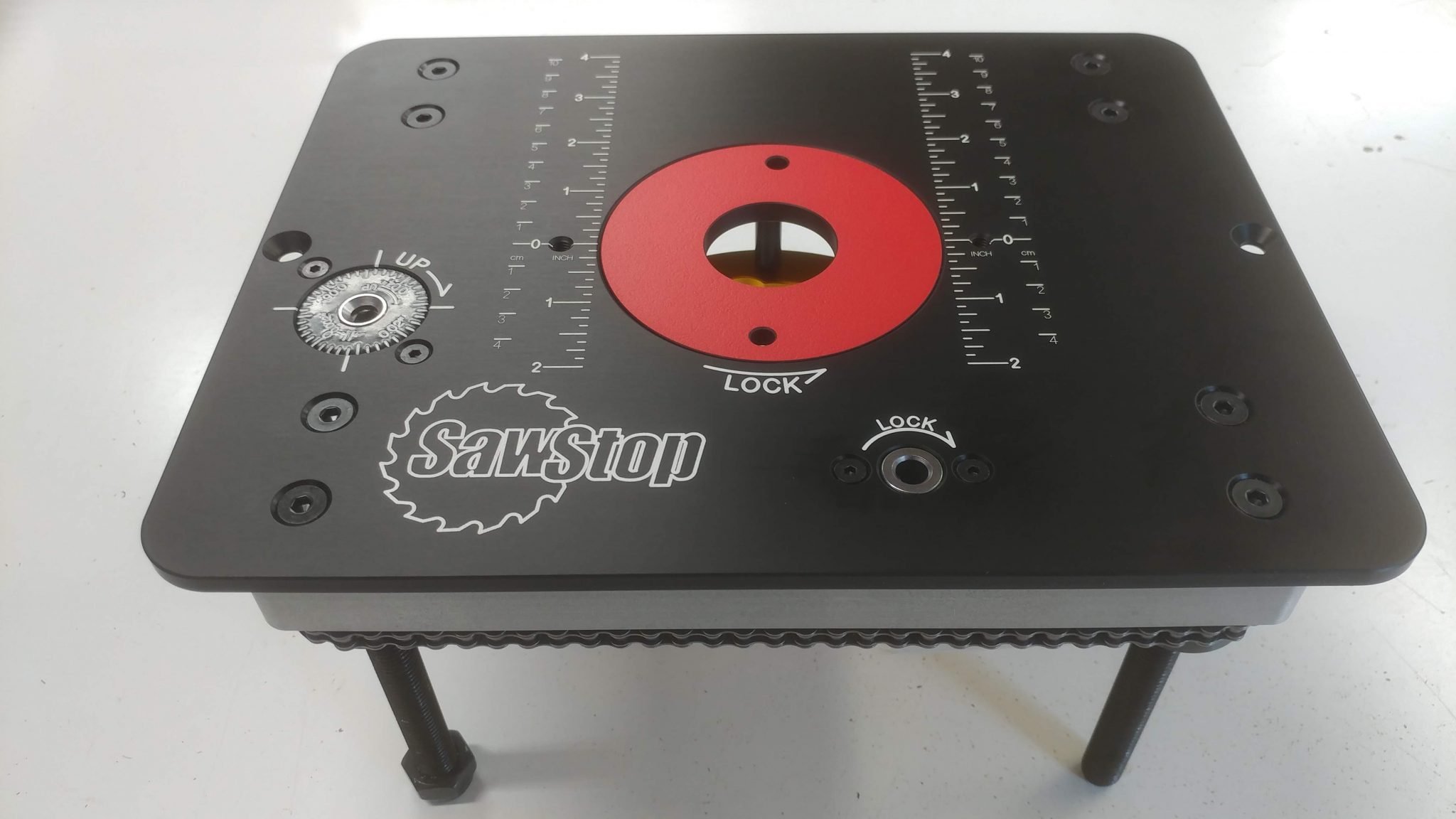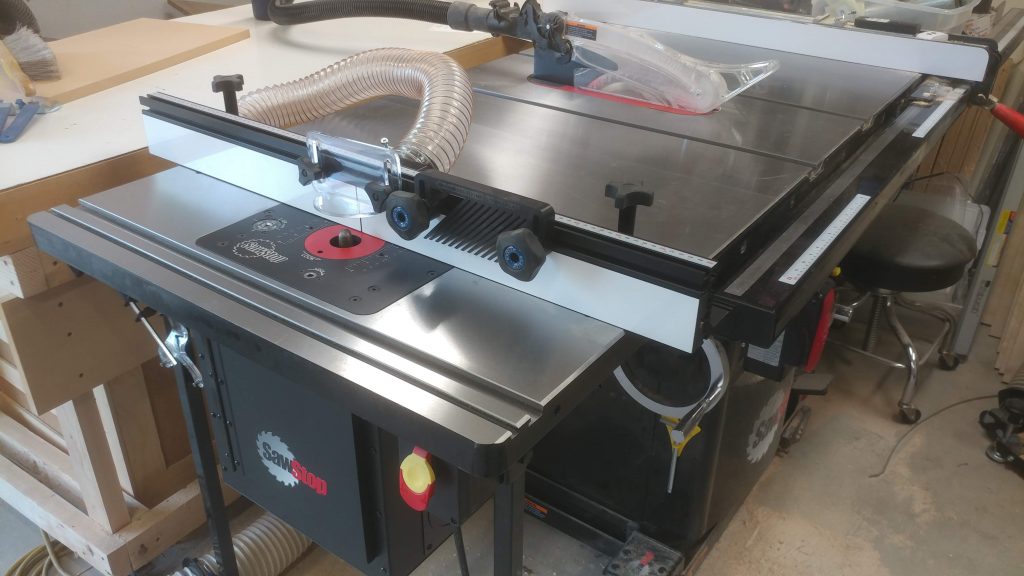 Finished the Router Table
I managed to get my hands on a SawStop router lift and downdraft dust collection box. This finishes up my SawStop Router Table
I'm putting together a detailed write-up on the assembly of each of the components as well as some of the tests I ran on it afterward. My initial impressions are good. I'm particularly happy with the dust collection capabilities.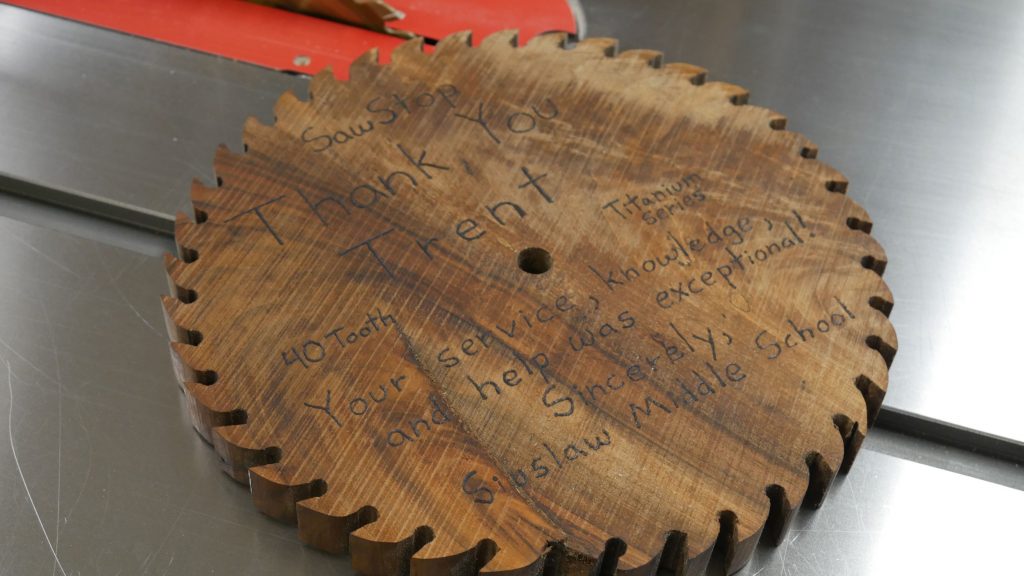 Surprise Present from a Customer
In mid-April, I got a call from Siuslaw Middle School in Florence, Oregon. They needed assistance with their blade guard. I'll spare you the boring details but the end result is that their problem was solved. All in a day's work. No big deal.
Fast forward a few weeks later and something cool arrived for me in the mail. As you can see in the picture above, it is a saw blade. Not just any saw blade, mind you, this one was hand made for me by the awesome students in the Community Wood program at Siuslaw Middle School. The blade is made from English Walnut and finished in Linseed Oil. This is now my prized possession and hangs proudly on my cubicle wall. I get lots of people stopping by to look at it. I've gotten things from customers before but this is my new favorite.
The Community Wood Class is a woodworking class with a focus on community service. They do woodworking projects for people in the school district and even in the general community. According to their teacher Tod Graham, "We also like to do simple acts of kindness involving wood." I think it's safe to say that this counts as an act of kindness.
The craftsmanship on this blade is great. I could never produce something of this quality when I was in middle school. I really want to see some more of their work. I'm particularly impressed that they actually cut out all 40 teeth and each of the teeth looks great. Being able to focus on a mundane task and perform it at a consistent quality level, as is evident on this blade, is very impressive. These kids are good at what they do and their community is lucky to have them.
I'll explain why this is so important to me…
We take customer service very seriously at SawStop, where I work. We have a reputation in the industry for handling customers better than the competition. I love this company but if they ever change their approach then I would probably leave (not that they're planning on changing). I made sure to show this blade to my superiors as a nice reminder that we are doing the right thing and we should continue to do so. We don't get bonuses or even praise for taking a certain number of calls or keeping the calls under a specific time-limit. Our job is to take care of the customer. Period.
Where else can you call for free support for, say, a 10-year old used saw that you bought at an auction, not have to go through an annoying call-tree, and get someone who not only speaks English but who also uses a table saw regularly and can talk shop with you? I love my job. My coworkers feel the same. This may sound cheesy but my passion is helping people achieve their goals.
It makes me feel good to know that there are people like the students in the Community Wood Class out there, and that I can help them do what they need to do in order to have a positive impact on their community.