I am currently raising funds for a series of documentary films that will explore different musical instruments and their history, cultural significance, and methods of construction.
You can read more about it by clicking on the picture below.
To donate, click on the "Donate" button in the GoFundMe dealie above or click on the following link: gf.me/u/sbgpm2
There is also an alternative way to donate and this may be easier for a lot of you…
How to Donate By Buying From Amazon
If you want to contribute but also want to get something out of it, you can always buy something from Amazon by accessing their website from the following link: https://amzn.to/2GrRUvr. This doesn't cost you a dime and we still get a contribution (usually about 5% of the total purchase).
If donating this way, please send me an e-mail at trentdavis74@gmail.com letting me know exactly what you bought from Amazon. I will keep a tally of all of this and will apply the earnings towards the GoFundMe in your name.
Cymbal Giveaway
Current Highest Donor
Cody Weathers ($50)
I am also having a giveaway. Once I meet my donation goal, the top donor gets their choice of one of the following cymbal sets, complete with hardware…
High-Pitched Chime Set
These five small cymbals are all salvaged from damaged splash cymbals. They are high-pitched and have a whispy quality to them.
They are currently arranged in a common kalimba-type tuning with the highest pitched cymbal in the middle, the next highest-pitched to the left, the next to the right, then left, then right. So if you number them from 1 to 5, with 1 being the highest in pitch, they would go, from left-to-right, 4,2,1,3,5.
This arrangement means that you can easily play them from highest-to-lowest by starting at the center and cascading out while playing right-left-right-left-right.
Low-Pitched Chime Set
These five cymbals are all salvaged from damaged crash cymbals. They live somewhere in the middle of splash and bell in terms of their sound and are quite unique.
These are currently arranged in a kalimba-type tuning as described above.
Three Bell Set
These three cymbals are all salvaged from larger crash cymbals. They are rather thick and are very bell-like in tone, but not overwhelming like Zilbells or Icebells.
They are arranged in a kalimba-like tuning as described above.
One of my favorite things to do with these is incorporate them with my left hand while my right hand plays the bell on the ride cymbal.
Together these three sets combine to help create my personal sound and now they can be yours. It really pains me to part with any of these but this project means that much to me.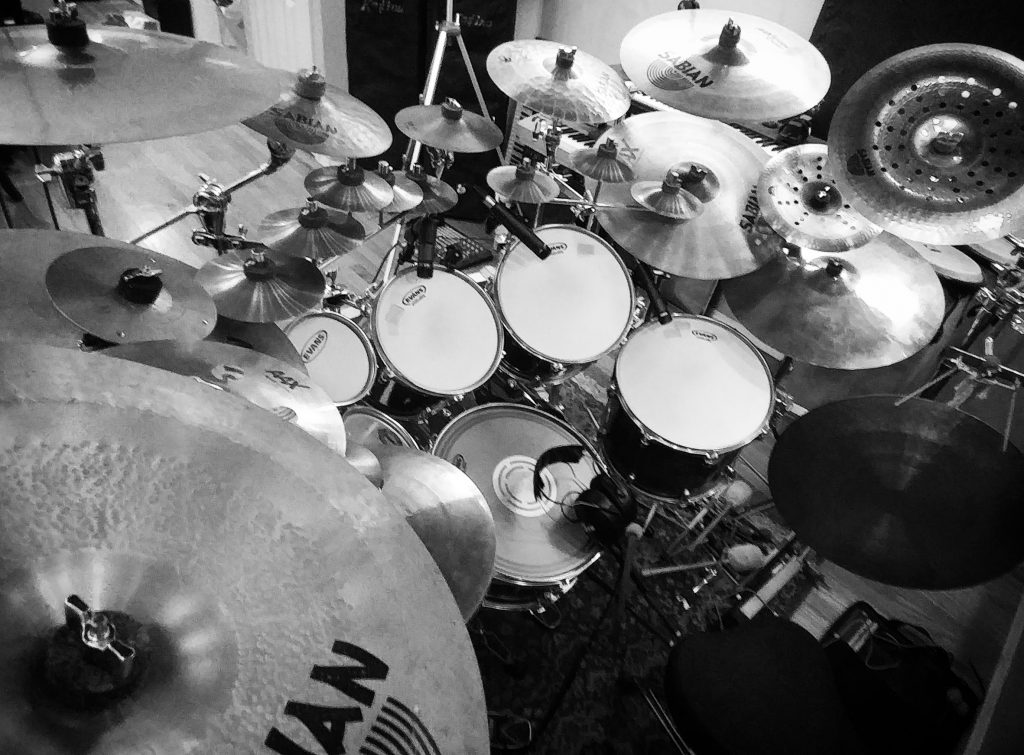 I might make second-place prizes as well. I'm open to ideas so please let me know if there is something else I can do to motivate people to give to this cause. Keep checking back for updates.
Example Videos
Here are some video clips of these cymbals in use. All of these songs are unfinished.
Every Time I Fall
This song just consists of drums and a scratch acoustic guitar backing track.
It features the high-pitched chime set extensively as I use it to play a repeating melody throughout most of the song.
Only The Strong
This song is actually just a rehearsal recording with our bass player joining us. The small cymbals are only featured a few times, with a fill in on the high-pitched chimes at the beginning and another with the low-pitched chimes at the 2:52 mark.
Soothsayer
This is a really rough recording but it has lots of percussion and I even play some of the chime cymbals with a bow.
One huge disclaimer: I was playing along to backing tracks and this band likes to do a sort of free-time thing with their tempo so it bounces all over the place, especially in the latter half of the song. Although my timing is far from perfect, it isn't this bad. You should see the click track that I had to manually put together for this track.
Help spread the word! The sooner we hit our goal, the sooner you can get your hands on these cymbals.