This weekend I added a new cymbal to my setup.  It's a Sabian Vault Custom Shop HH 22″ ride with a semi-lathed pattern on the top and a completely lathed underside.
I used it at our regular Sunday gig at McNallly's Taproom (we play each Sunday from 3:00 – 5:00).  The band plays Gypsy Jazz so it was a good venue to try out this cymbal.  I added a Pro-Mark Sizzler to it to see how it would work and it performed admirably.  I typically use a 20″ Sabian Ed Thigpen Crystal Ride with the sizzler but this 22″ cymbal is my new favorite.  Tapping it with my brushes caused it to sizzle for quite a while and it didn't get the annoying vibrato sizzle towards the end that other, thicker cymbals get.  It complimented the cut-down Wuhan cymbals well, although it made my LP Granite Blocks rather hard to reach.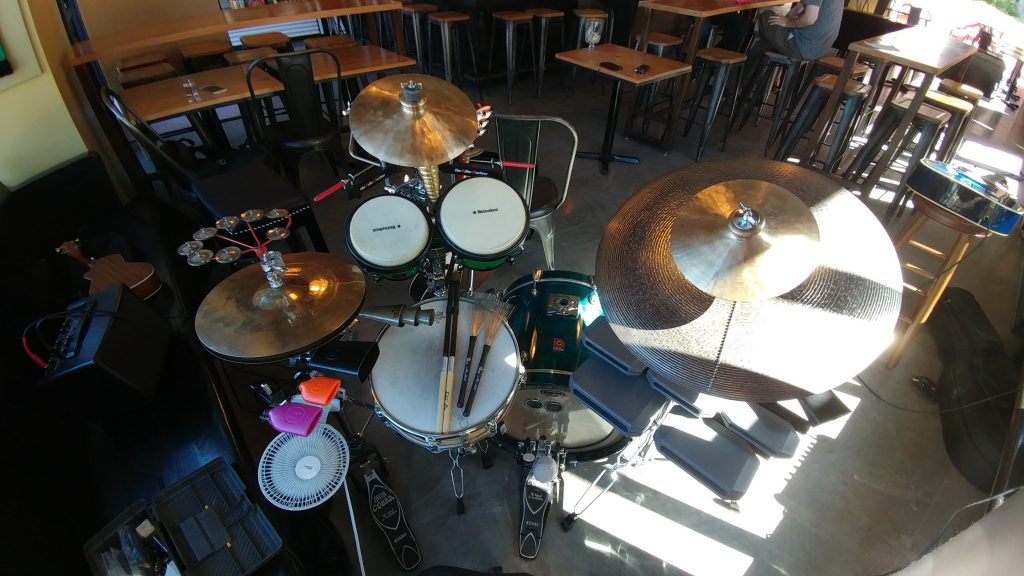 The lathing and hand hammering make for a beautiful cymbal, but also of note is the pronounced bell.  I haven't had a chance to use this at higher volumes yet but some preliminary tests show that the cymbal crashes well, and even though I'm not one who crashes their ride cymbals, I ended up crashing on it several times and I loved the sound.
I'll post some video of the cymbal soon.  It's got a nice satisfying wobble to it when you hit it and a nice, dry, smoky sound.