Workbench/Outfeed Table Work Surface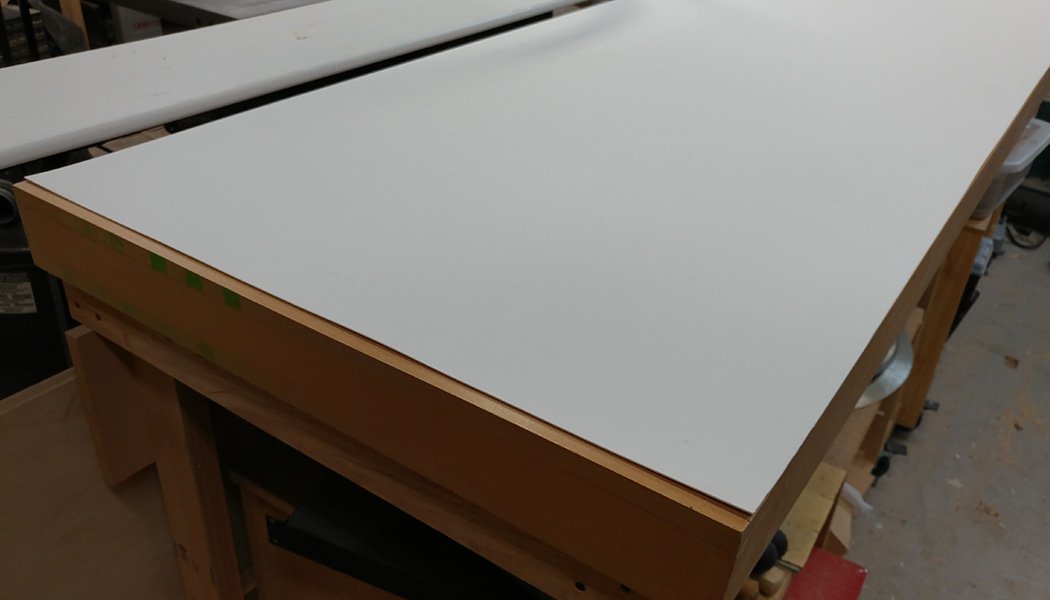 UPDATE:
I've tested this for almost a year.  Read my final opinion here.
---
Behind my table saw is a large outfeed/assembly table that consists of a torsion box top that sits a little bit lower than my table saw.  Since this table is used for glue-up, finishing, andlots of other destructive activites, I have a sacrificial work surface that sits on top of the table and takes my abuse rather than destroying my torsion box.
Removing the Existing Work Surface
My current work surface has seen better days.  It's probably time to replace it.  In reality, it's actually not that bad, I'm just sick of the sight of it.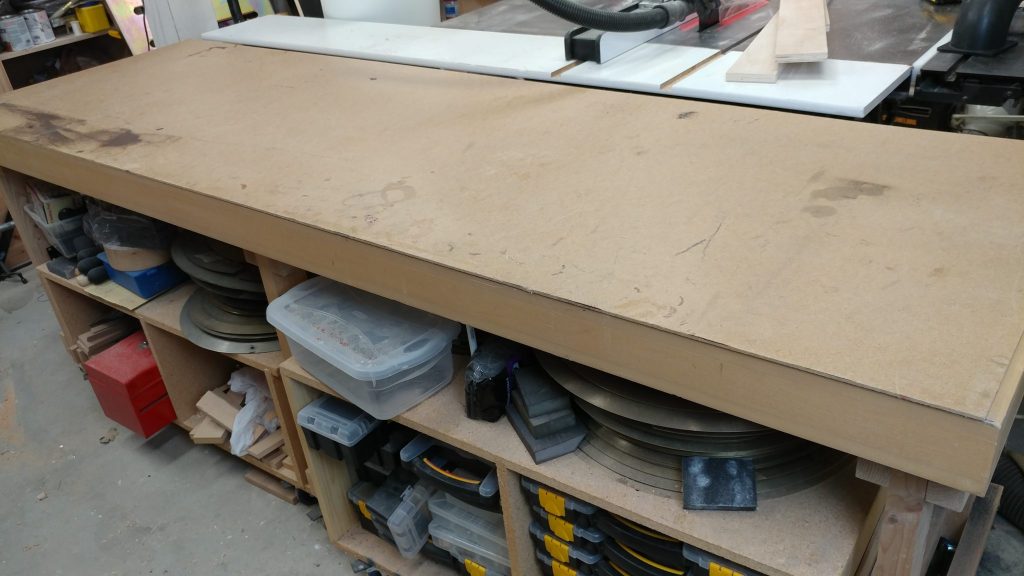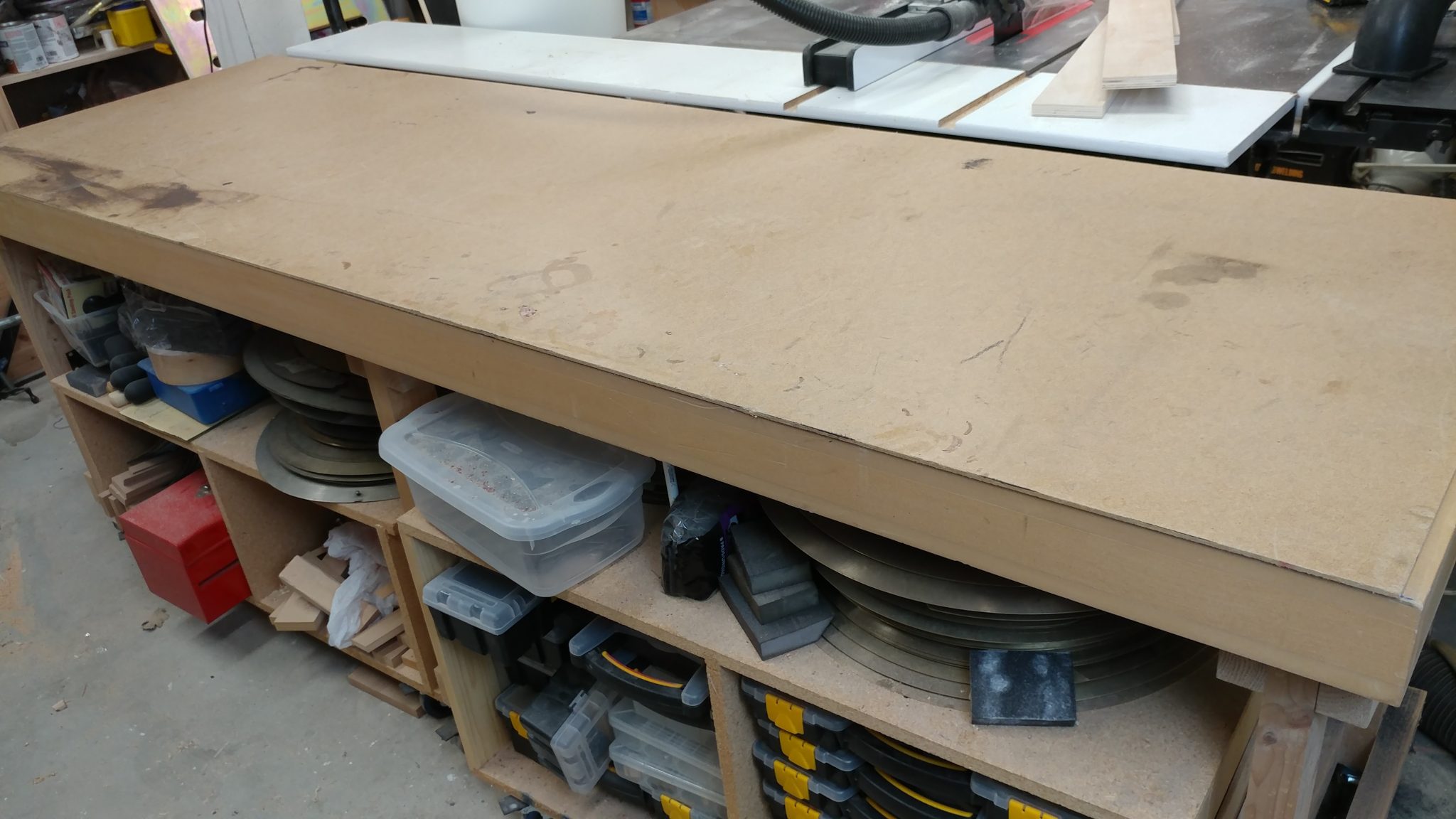 I typically use a sheet of 1/8″ hardboard that sits loosely on top of the torsion box which is made out of MDF and finished with a few layers of polyurethane.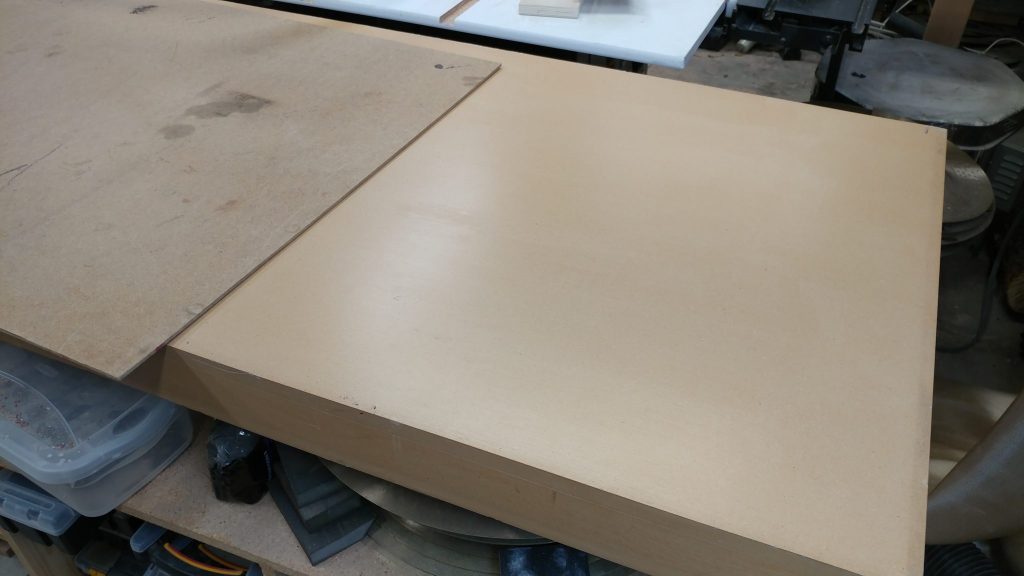 By using a sacrificial work surface I am able to keep the actual bench-top relatively nice looking and flat.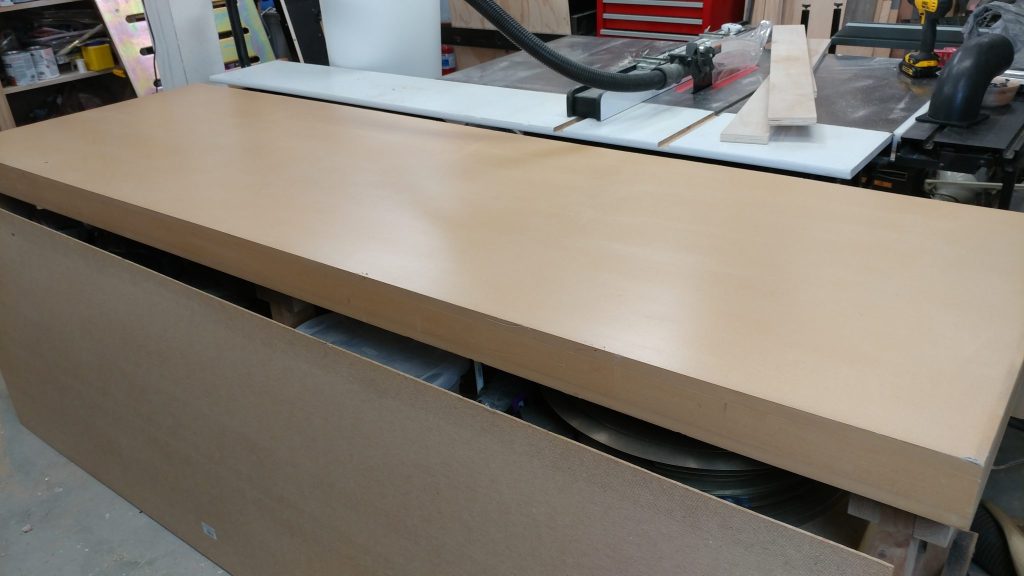 Laying Out and Sizing the New Work Surface
I originally wanted to change things up and replace it with a sheet of hardboard with a smooth white coating, sometimes referred to as markerboard.  My reasoning was that glue and paint could be easily scraped off.  When I went to the local big-box home store, I saw a material I hadn't worked with yet and I decided to give it a try.
I got a sheet of PolyWall, which is advertised as being a good way to protect walls.  It's thinner than hardboard and has a slight texture to it.  The sheet is larger than my bench-top which measures 30″ deep and 8′ in length.  I'll need to cut this down.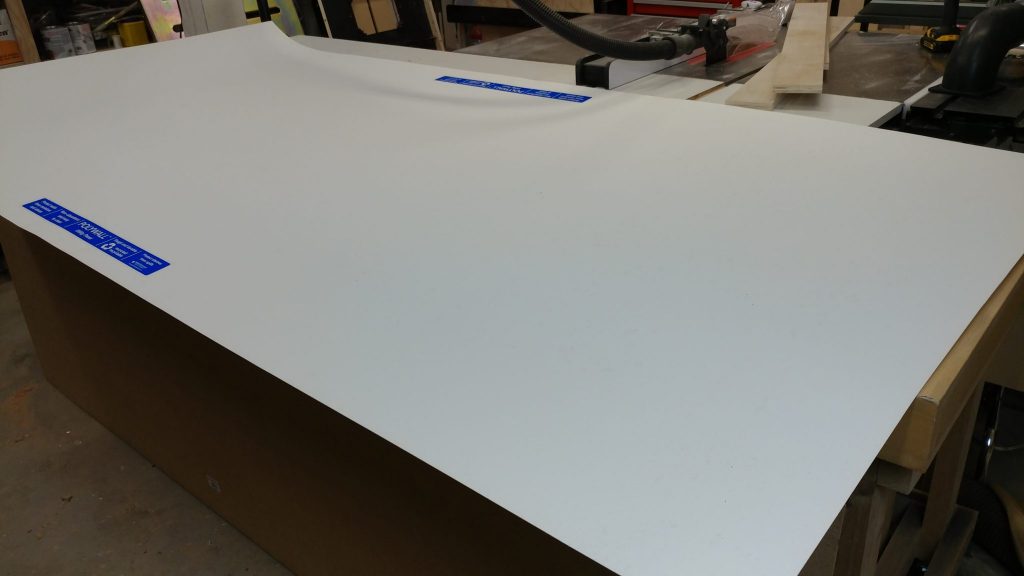 My workbench is actually a little longer than 8′.  This will actually help me cut it down as you'll see in a later step.  For now, I leave a little bit of the workbench exposed on each end.  To make sure I trim this down squarely, I am using a combination square on one side and set the new work surface  the same distance from the edge of the workbench all along that end.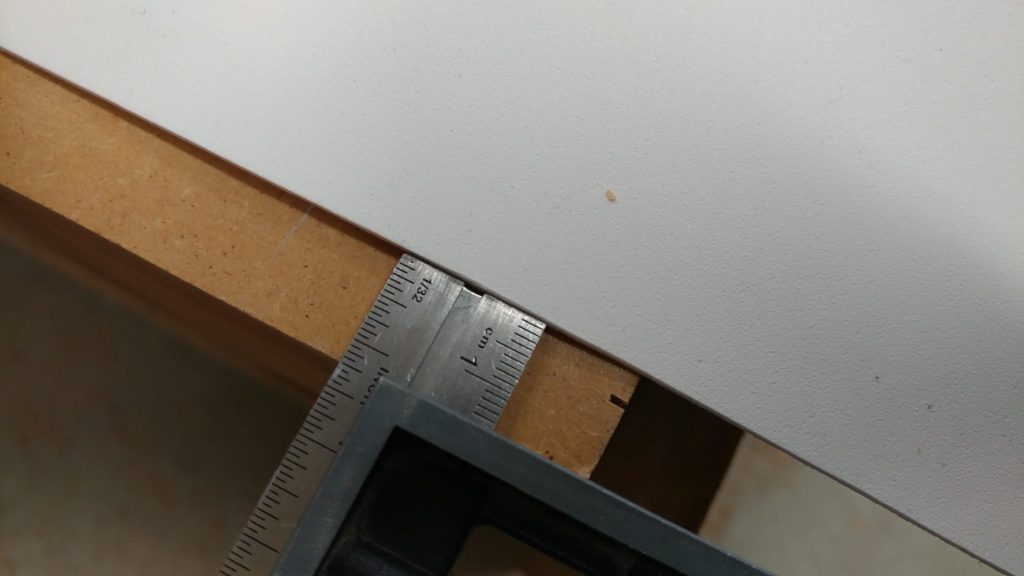 Now I'm using something to hold the new work surface down.  For this I just grabbed one of my cauls and clamped it down with some quick release clamps.  I did this on each end.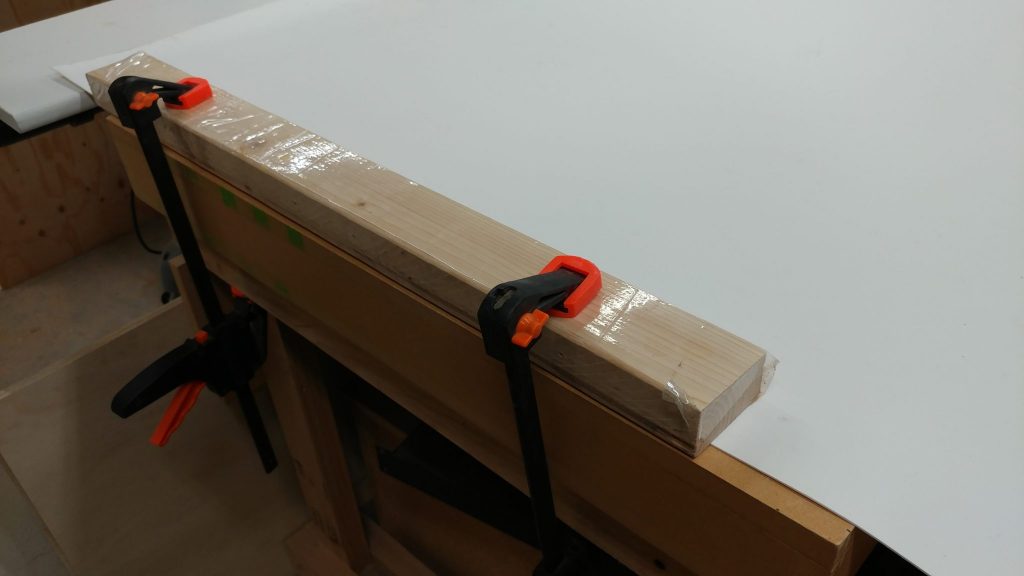 Then I clamped a straightedge along the front edge.  This is where it helps to have the workbench stick out from under the work surface.  Since my straightedge is also a little bit longer than 8′ in length, I used the workbench to line up the straightedge and clamp it down on each end.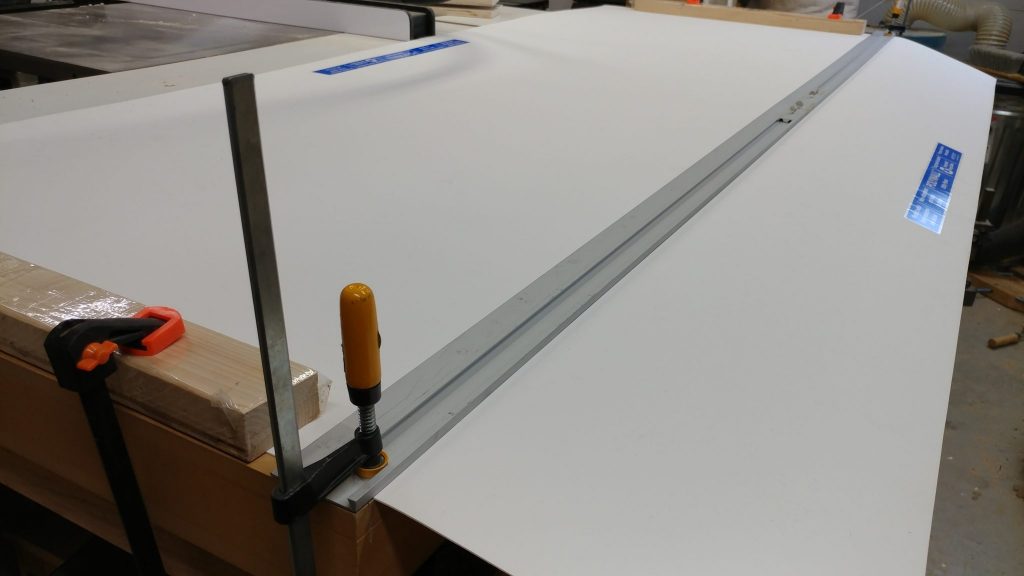 Cutting this material is really simple.  I just ran a utility knife along the straightedge to score the material, then repeated a few times until it simply fell away.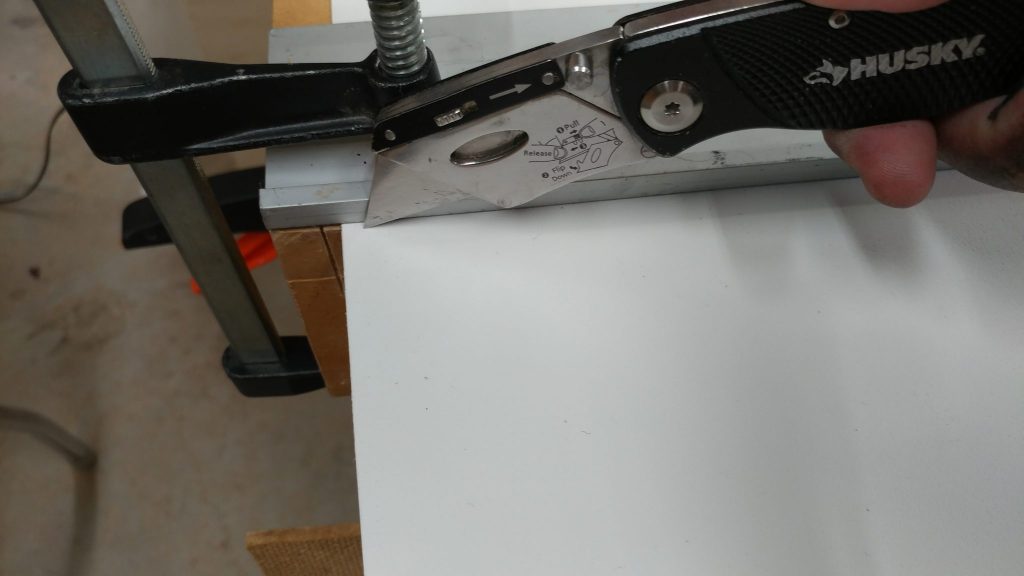 The finished edge has a slight burr to it that can be removed with a file, sandpaper, or a scraper.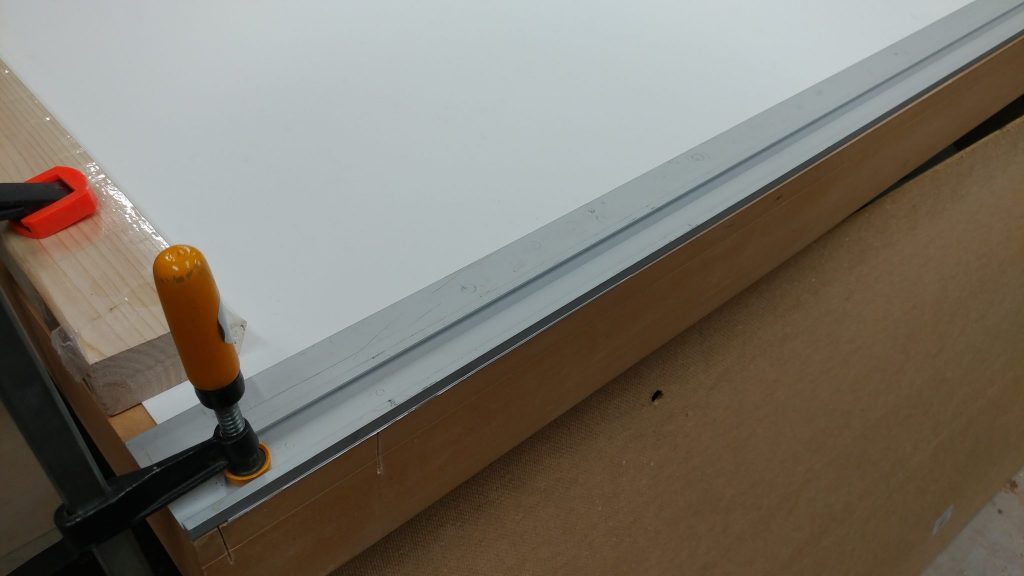 After that I moved the straightedge to the back of the workbench and repeated the process there.  To simplify, I could have just lined up one of the factory edges of the material with either the front or back of the workbench top but I just felt like doing it this way.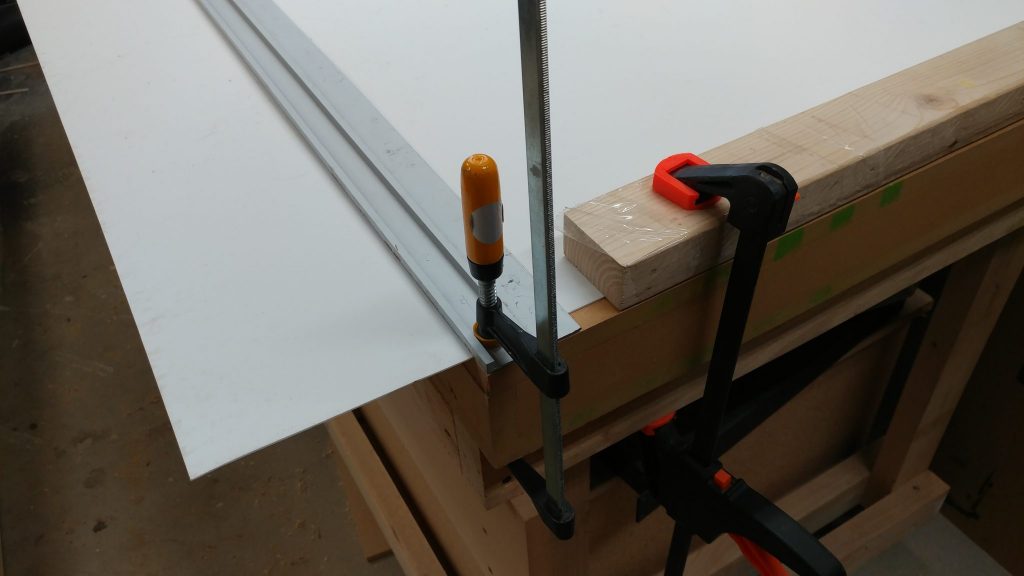 Securing the New Work Surface
That's all the cutting I'm going to need to do.  As you can see, the material likes to raise up at the far edges.  This is because I had to roll up the sheet to fit in my car when I bought it and it tends to have a memory to it that fades with time.  I can fix this by simply letting the sheet lay on the workbench for a few hours.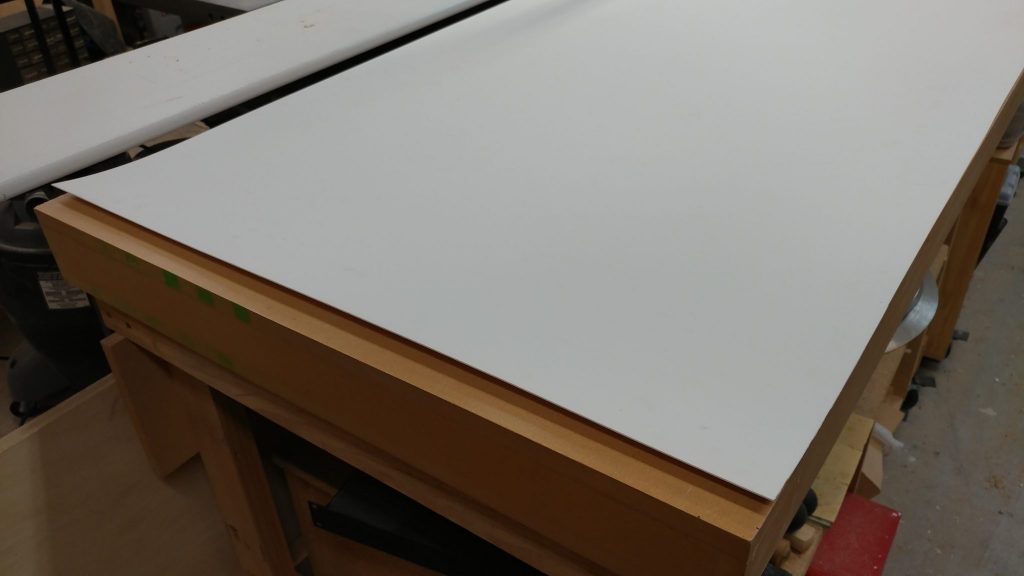 To keep the sheet from slipping, I am applying some strips of double-stick tape between the benchtop and work surface.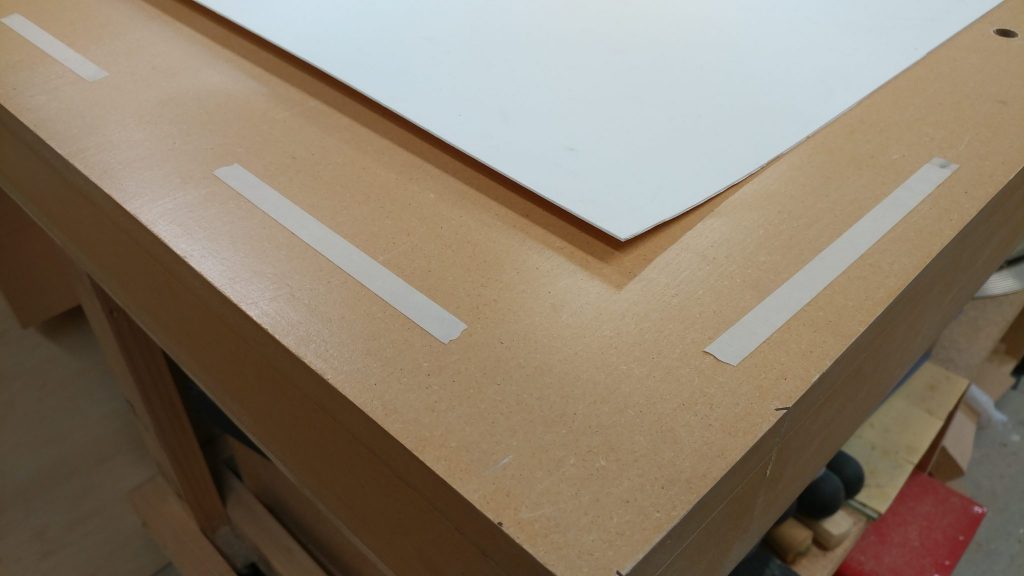 Now we have it.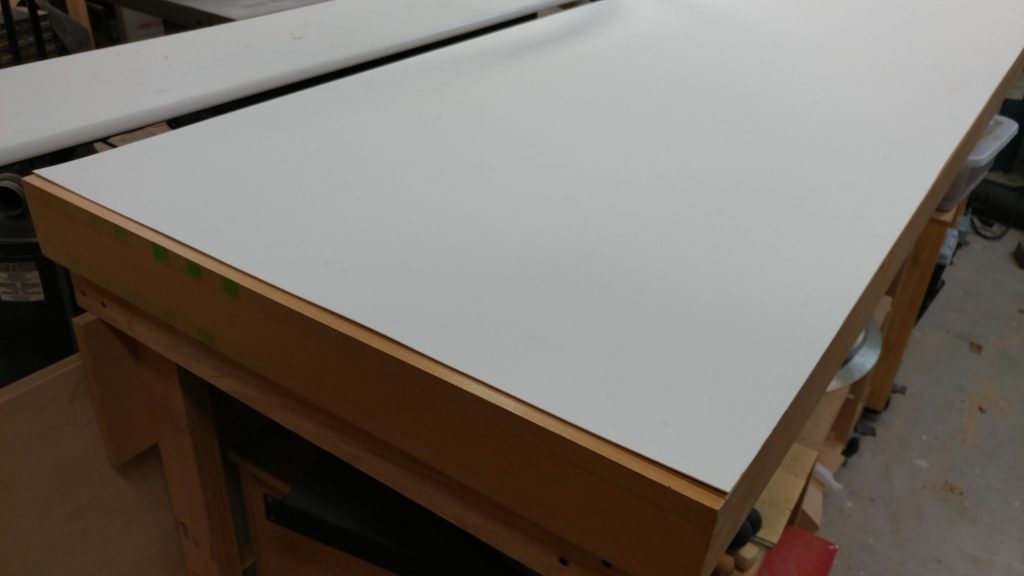 I've never used this material as a work surface before.  I'm going to test it out for a few months under normal use and report back with how it works.  So far, I like the slightly textured surface since it causes the material to glide across it much easier.  I'm mostly concerned with the toughness.  It seems pretty tough but awfully thin.  I'll let you know how this holds up.
Have you ever used this material for anything?  What do you put on the top of your workbench?  Share it with us in the comments below.
UPDATE:
I've tested this for almost a year.  Read my final opinion here.